This article is for IT support when managing a School Manager physical appliance.
The On School Manager Network settings control the functionalities of Filtering, MITM, Safe Search, Classwize, and DNS Filtering. These functions are accessible when users' devices connect to your on-campus network and your school utilizes a School Manager physical appliance. For cloud-only filtering, see Off School Manager Network in the Mobile Agent instead.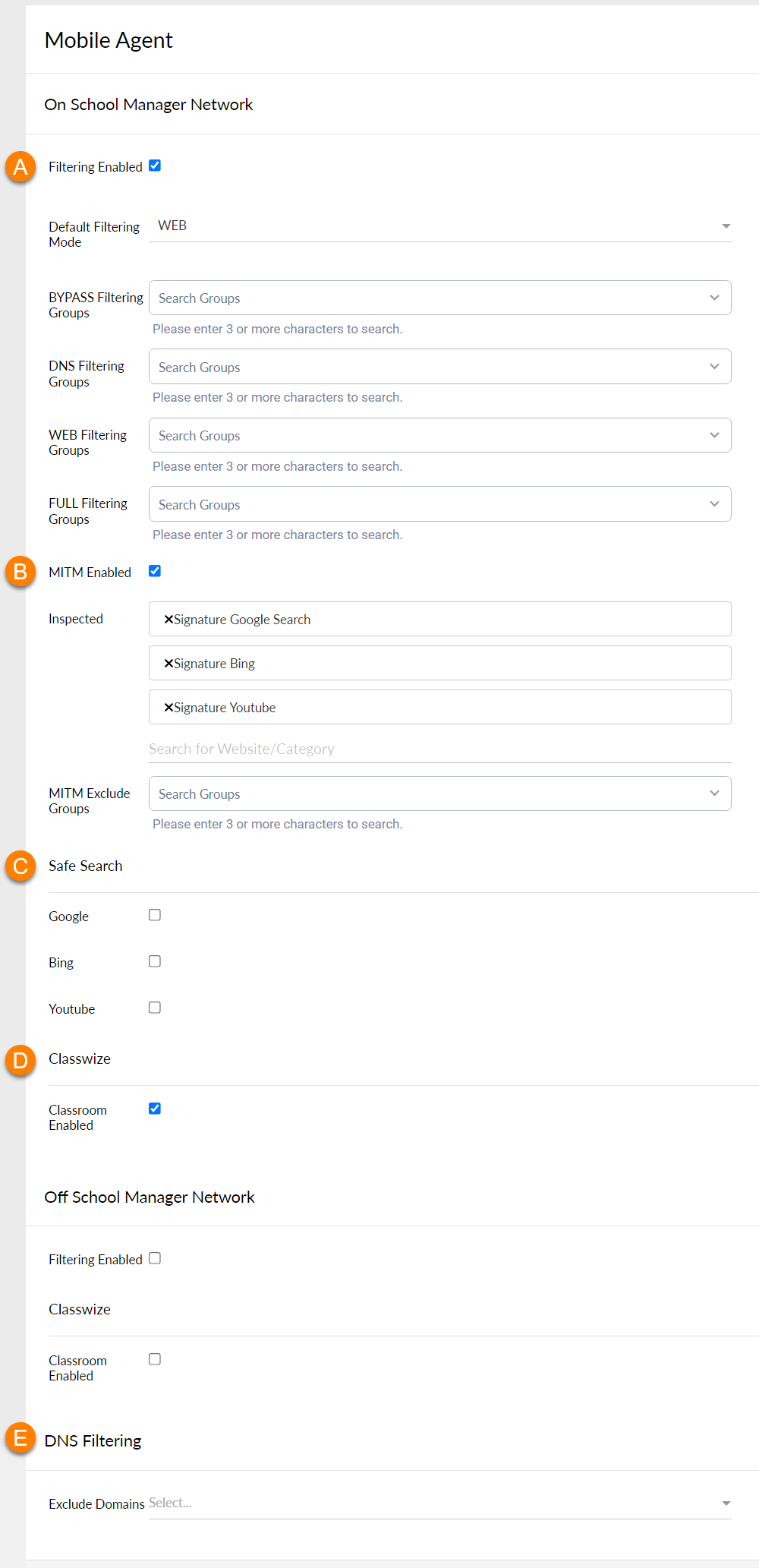 A. Filtering Enabled
Info
Filtering Enabled settings apply to all devices running Linewize Connect that connect to a network with a School Manager physical appliance. You can use Bypass Filtering Groups when you want to stop these settings from applying to specific groups of users.
By selecting Filtering Enabled in the On School Manager Network section, you can configure a range of useful features to manage the devices and add functionality for your users while they are connected to your physical network. Enabling filtering will give you access to the following functionalities:
Filtering is always on: You can access additional functionality to ensure you know which users are connected and provide more tools in your on-campus classrooms. (Devices running Linewize Connect are child-safe and learning-ready, even when you have On School Manager Network filtering unchecked.)

Manage devices while on campus: You can access additional features to manage devices on your physical network. Monitor search keywords and video content information for Statistics, Cyber Safety, and Advanced Search Reports using MITM (Man In The Middle).

Get the best classroom experience: If your school uses Classwize, Filtering Enabled is required to enable Classwize on your physical network and get access to the full suite of Classwize features.
B. MITM Enabled
Info
This feature applies to devices running Linewize Connect on Windows and macOS. It also applies to Linewize Connect for iOS/iPadOS when Web Filtering Mode is active.
Your school leadership may want to provide support to students confronting difficult topics like suicide, substance abuse or violence. When MITM is enabled, Linewize Connect can decrypt and monitor search terms, YouTube content, and limit users from logging into personal accounts.
MITM can be used to:
You can add Groups (like teachers or school administrators) to MITM Exclude Groups to remove them from search and video monitoring, and login restrictions.
Important Exceptions
MITM is always on in Connect for Chrome due to how the technology works in browser extensions. Unchecking MITM does not turn off search and video inspection in the Chrome extension.
C. Safe Search for Connect for Chrome
Info
This feature only applies to Chrome browsers with the Connect extension.
Ensure your users see appropriate search results by installing the Connect extension in your users' Chrome browsers. The On School Manager Network configuration for Safe Search applies to Connect for Chrome - Education.

Connect for Chrome ensures explicit content is omitted from Google search, Bing, and YouTube search results for school Google accounts only.
Important
Review the Enforcing Safe Search articles to avoid conflicts between Google Workspace and School Manager.
D. Classwize
Info
Applies to Linewize Connect and Connect for Chrome at schools using Classwize on a network with a School Manager physical appliance.
If your school uses Classwize, select Classroom enabled to give your teachers access to Classwize's classroom management features.
E. DNS Filtering
Info
Applies to devices running Connect on Windows, macOS, and Linewize Connect for iOS/iPadOS.
DNS Filtering is located at the bottom of the Mobile Agent page. Use this function if the School Manager filtering conflicts with educational software tools like LDAP servers, Student Information Systems (SIS), standardized testing services or classroom management applications.
When Configuring Bypass Domains, you can use a root domain or subdomain but cannot use IP addresses. DNS Filtering configuration is applied to users' devices, both On School Manager Network and Off School Manager Network.