This article is for teachers, school leadership, and wellbeing staff.
The "Linewize Daily Filtering Notification" is a summarized list of blocked events from the previous day.
If you are busy with other tasks, one list is more practical for monitoring blocked activity than multiple real-time emails throughout the day. The day after your IT support enables the email, look in your inbox for the subject "Linewize Daily Filtering Notification" from noreply@linewize.com.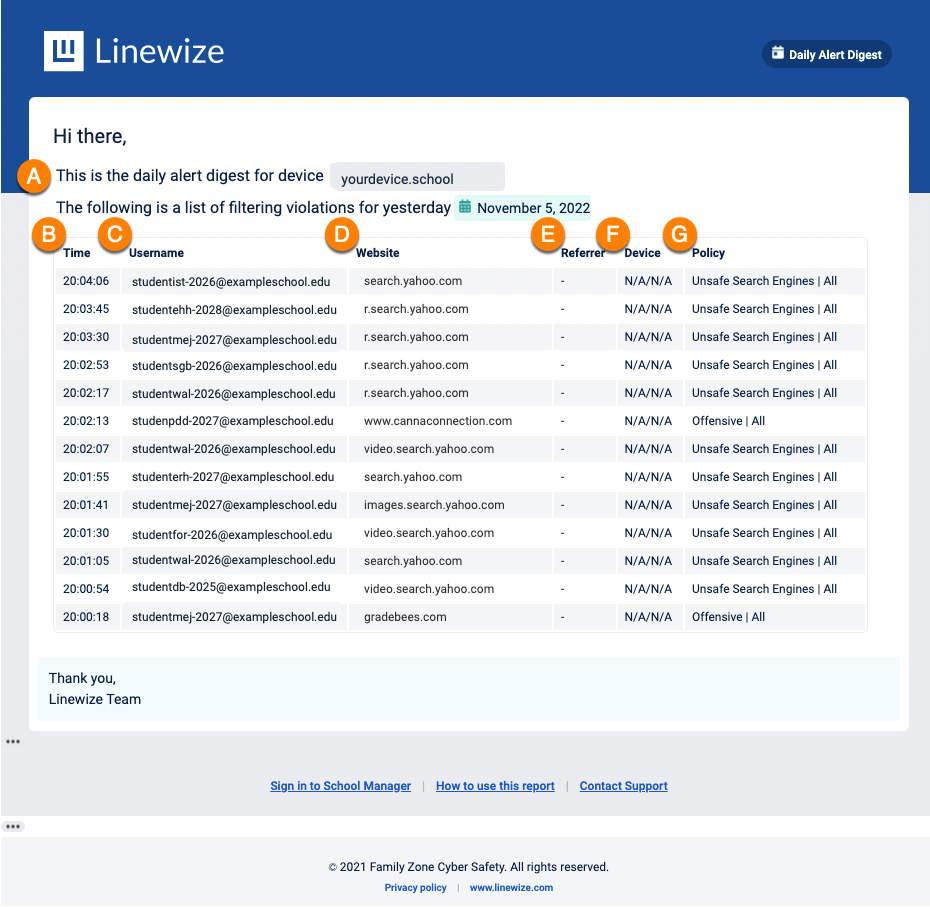 | Section | Description |
| --- | --- |
| A. Device and Date | The name of your School Manager Device and the Date of the blocked events. |
| B. Time | The Time the activity was blocked. The time is displayed in the 24-hour time format with the hour, minute, and seconds. The list is sorted from most recent to oldest events. |
| C. Username | The Username as listed in School Manager. |
| D. Website | The web address of the blocked connection attempt |
| E. Refferer | The originating website, if the user was referred to the blocked content from an allowed website |
| F. Device | The user's device identity. The MAC address (hardware identity) and IP address (network identity) are only available for specific Windows, macOS, and iOS/iPadOS configurations. |
| G. Policy | The name of the Content Filtering Rule Policy that blocked the connection attempt. |
The default email will contain all the users you have access to. We recommend you ask your IT support to configure the summary to be limited to an individual or a small group of users to keep the list manageable. A smaller list can make it easier to see daily trends for the users who are most likely to need your support. We also recommend your IT support grants you permission to access School Manager as a "Reporting / Pastoral Care Administrator" role. This will allow you to access the reports from the links in the email.
When you ask your IT support to create an email alert, discuss the types of behavior you need to know about. Unlike the Red Flags email, the Daily Filtering Notification can be customized to monitor blocked behavior other than the default Red Flags. Your IT support will enable the alert in each of the Block Rules related to the online activity you are monitoring.