This article is for IT support.
Classwize Filtering Features and Tools
School Manager Content Filtering Policies change how teachers can use Class Tools and Rules in Classwize. Teachers can use Class Tools to manage students' access to websites. The Class Tools functions can override School Manager's unlocked filtering policies by:
Creating filtering Rules specifically for their classes or students
Generating Bypass Codes to allow certain students to bypass some filtering policies
Giving a Reward to students to access blocked popular sites, such as gaming and social networking sites
Allowing a teacher to Pause Internet access to discourage students from browsing the Internet during class
Set a Focus on specific websites a student can access
Creating Rules in Classwize
Classwize allows teachers to create class-specific filtering rules that either block or allow access to websites when their classes are in session.
This means that while your school has created filtering policies within School Manager, teachers can still override unlocked policies in Classwize to help manage their classes and to support their students' learning needs. For example, they can temporarily unblock access to sites like gaming or social networking to reward students for good behavior or completing tasks, or block access to an unfiltered site to encourage students to focus in class.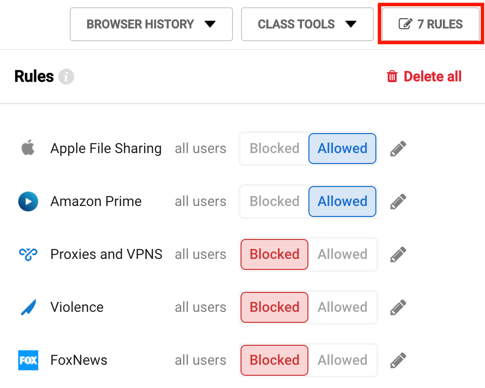 Can Teachers override all filtering policies?
No. Teachers can't override all filtering policies. Some filtering policies are Locked-Blocked in School Manager to ensure students' online safety, while others are Locked-Allowed to make sure that students always have access to required learning resources. Teachers cannot use Classwize to override Locked policies that are enabled (green) in School Manager. Only IT support with an Owner/Global Administrator role in School Manager can unlock Locked policies.
Locked-Block policies may include filtering for pornography, malicious sites, unsafe searches, or other content that the school considers as inappropriate for students.
Locked-Allow policies may apply to required connections to ensure the network system runs smoothly and prevent disruptions when operating school equipment (e.g., printers, projectors, routers). Some Locked-Allow policies also ensure students can access essential learning resources.
Can an Administrator remove Classwize Rules?
An administrator can remove Classwize Rules:
In School Manager, go to Configuration > Classwize > Classrooms.
Open the relevant classroom and scroll down to its Class Policies section.
Select the bin icon (Delete) to remove the Classwize Rule.
On the confirmation dialog that appears, select DELETE.
See Introduction to Classwize Rules for more information.
Blocked Rules Only Mode
See: Enabling Classwize Block Rules Only Mode for more information on how to enable this feature.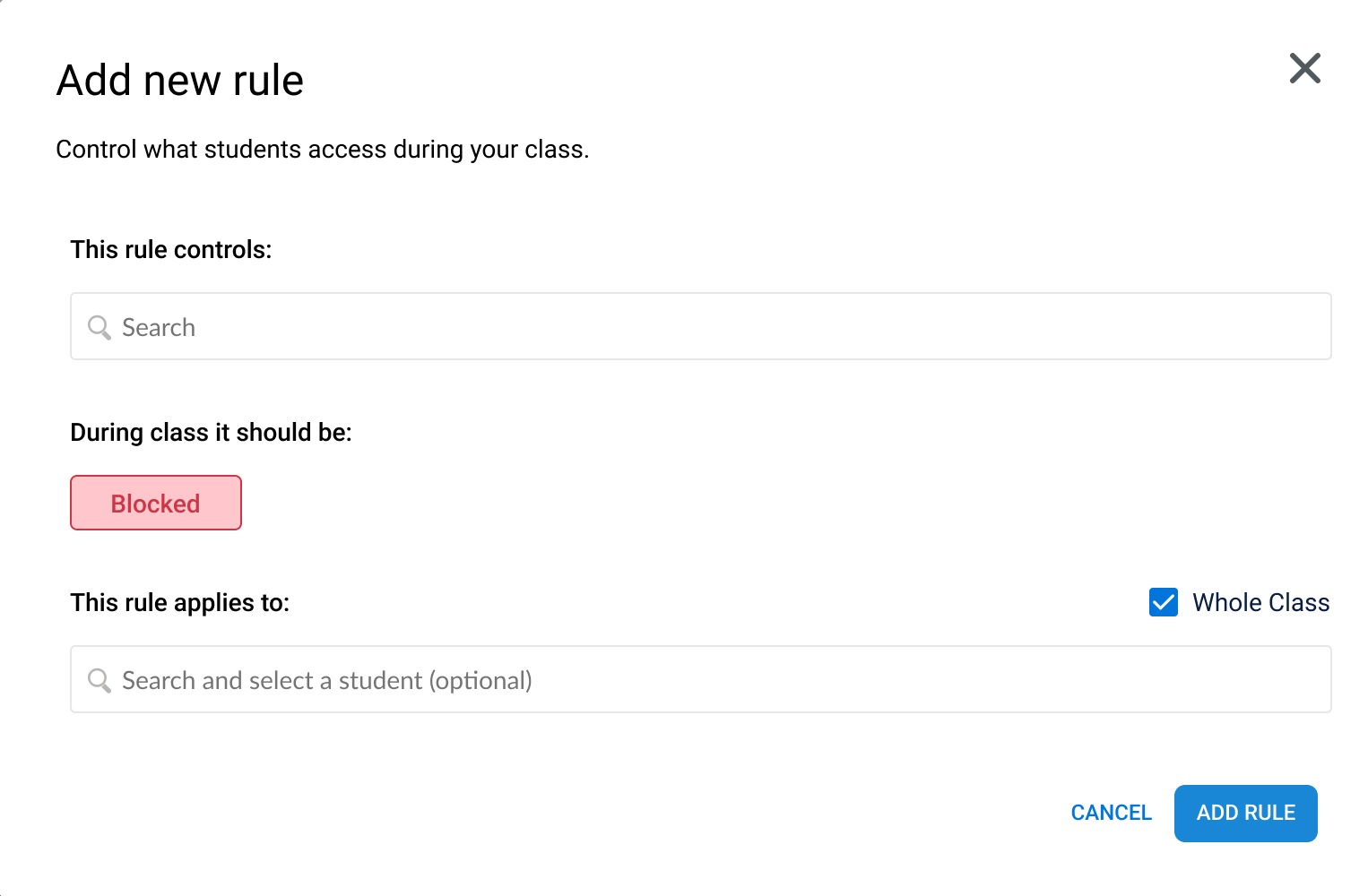 Classwize Class Tools
In addition to Classwize Rules, teachers can use the following Class Tools to manage their students' internet access while their classes are in session.
Bypass Code
A user with a Bypass Code can enter it on a block page to access any blocked site that isn't also Locked. Teachers can create time-limited Bypass Codes in Classwize and give them to students when they aren't sure why the student can't get to a website after creating a Classwize Rule to Allow it. They can also give a Bypass Code to a student when they want them to do self-directed inquiry in an environment where the teacher or student can't be disturbed. IT support can manage Bypass Codes across all Classwize users from School Manager.
Caution
Bypass Codes are very powerful and should be used with caution by teachers. A user with a Bypass Code can access any site that isn't Locked-Blocked for as long as the code is active (between ten minutes and three hours, as determined by the teacher).
Reward
Teachers can use Reward to allow students to view an otherwise blocked Signature/Category for a defined period of between ten minutes and three hours. Teachers will typically use Reward to let students access games or social media as a reward for good behavior or for completing a task. Teachers cannot use Reward to give access to Locked-Blocked sites.
Pause Internet
Teachers can use Pause Internet to temporarily stop one or more students from accessing the internet entirely. Teachers often use this tool to prevent any student from getting distracted while the teacher is addressing the class.
Focus
Teachers can use Focus to temporarily stop students from accessing the internet except for one or more sites. When the teacher turns on Focus, any open web pages or browser tabs will close and students won't be able to open new sites or follow links unless it's to a Focused Site. Teachers will often use this feature to encourage their students to stay on task and avoid distractions.
When the Teacher ends the Focus session, any closed tabs will reopen for the student. See: Introduction to Class Tools for more information about Focus and other class management features in Classwize.
See: Introduction to Class Tools for more information about Focus and other class management features in Classwize.