This article is intended for school leadership, filtering administrators, and IT support staff.
The "Weekly Report" is an automated email from School Manager. It can help you monitor the online well-being of a group of users or a single student over several weeks.
Your School Manager Global Administrator or Filtering/Reporting Administrator can set up the email report for you. By default, the report summarizes the internet activity of all users assigned to you. While you can set up as many reports as you need, you can only specify one group or user per report. Let your IT administrator know if you need the report for a group of students or an individual user.
The "Weekly Report" is sent from weeklyreport@linewize.com and contains seven sections. While your "Weekly Report" is usually a quick read, we have included some tips on how to use School Manager to investigate data you are interested in.


Tip:
If your school uses BYO devices, you can ask your IT Administrator or Linewize Support whether they monitor the users' devices at all times or only while connected to the school network. If your school provides devices to students, they typically monitor them at all times.
Sections of the Weekly Report
A. School Manager Data
Your report displays the name of the School Manager device managing filtering rules at your school. You may get the weekly report from multiple devices if you work in a school district or large school. Next, look for the Monday start date and Sunday end date for this weekly report to ensure you're looking at the most current data.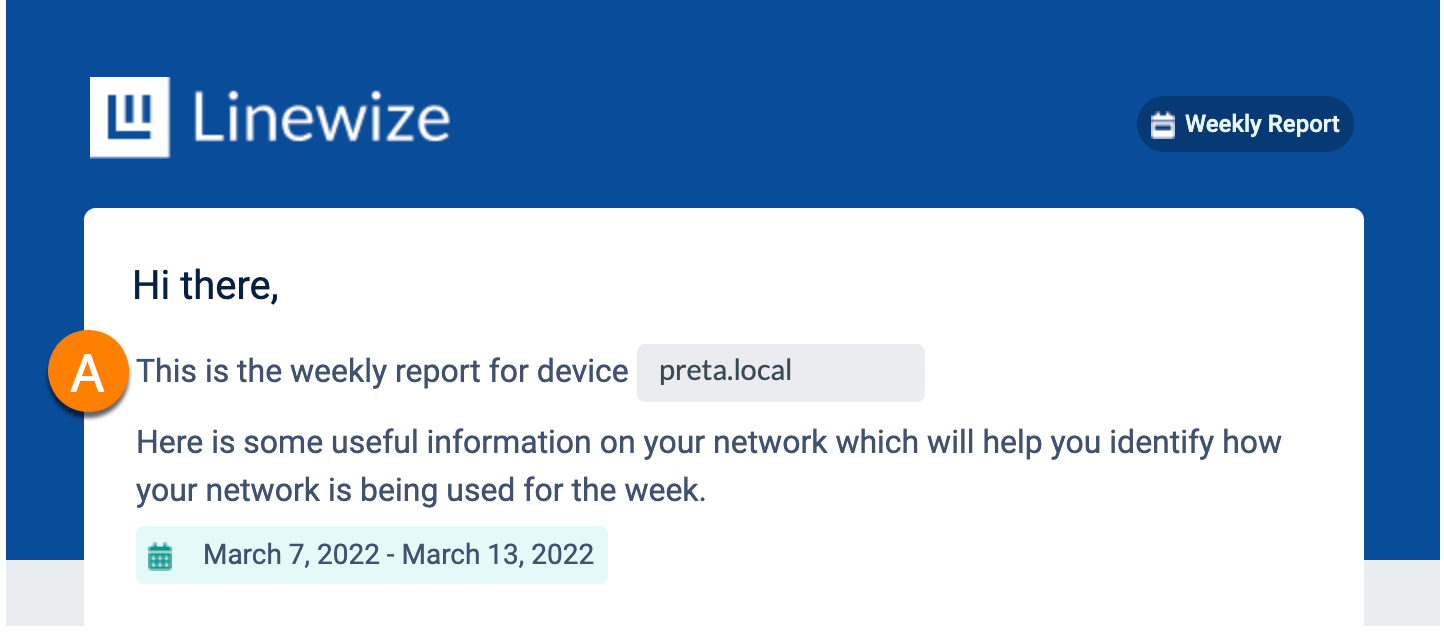 B. The number of Unique users per day
Your report gives you a visual representation of the number of your users that School Manager has seen each day of the reporting period. If your Weekly Report is set up for only one user, this graph will only show one unique user.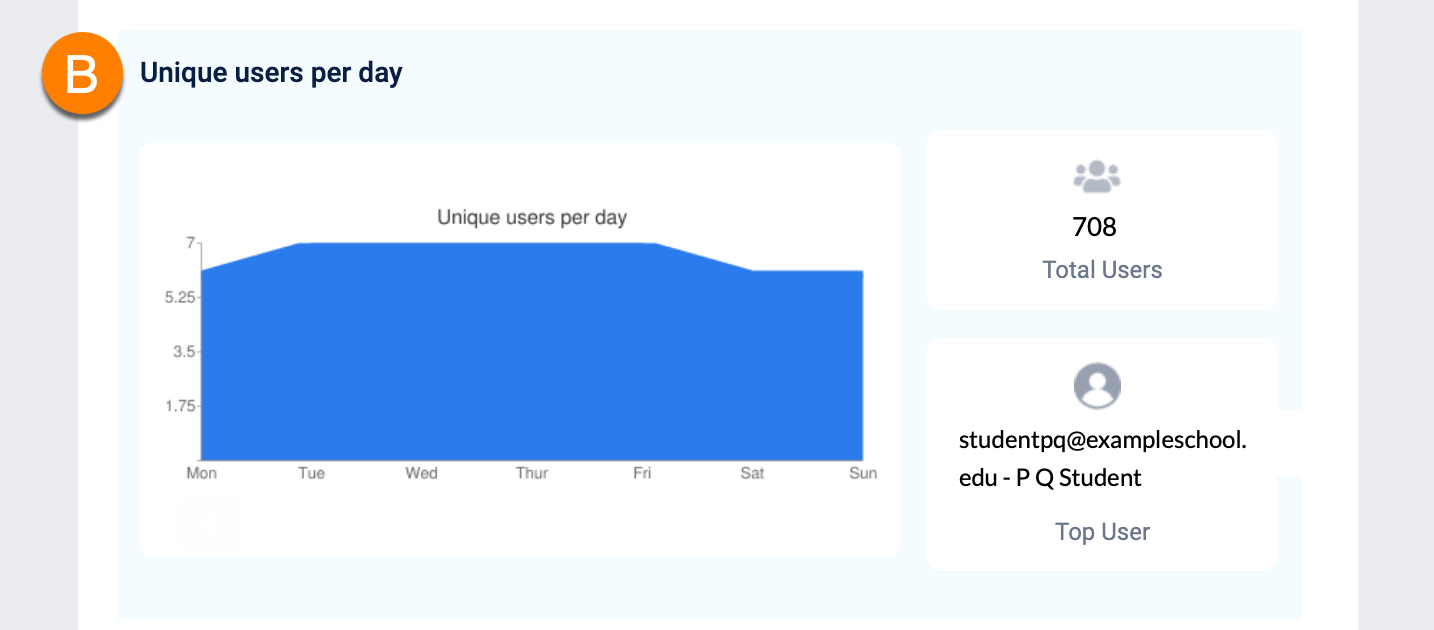 You may see users on the weekend if users take home devices managed by your school or if your school is open on the weekends for student activities.
You can see an overview of the activity for individual users by going to Statistics > Users and searching for the username. Select their username to get an overview of their activity in their dashboard.
C. Data transferred per day
Your report will show you how much data was uploaded and downloaded daily by your users' devices while they were monitored. You should expect much lower use outside school hours unless your school or district uses School Manager to provide 24/7 monitoring and filtering. For those schools, you would expect to see data generated on the weekends when students use their computers to do homework or play.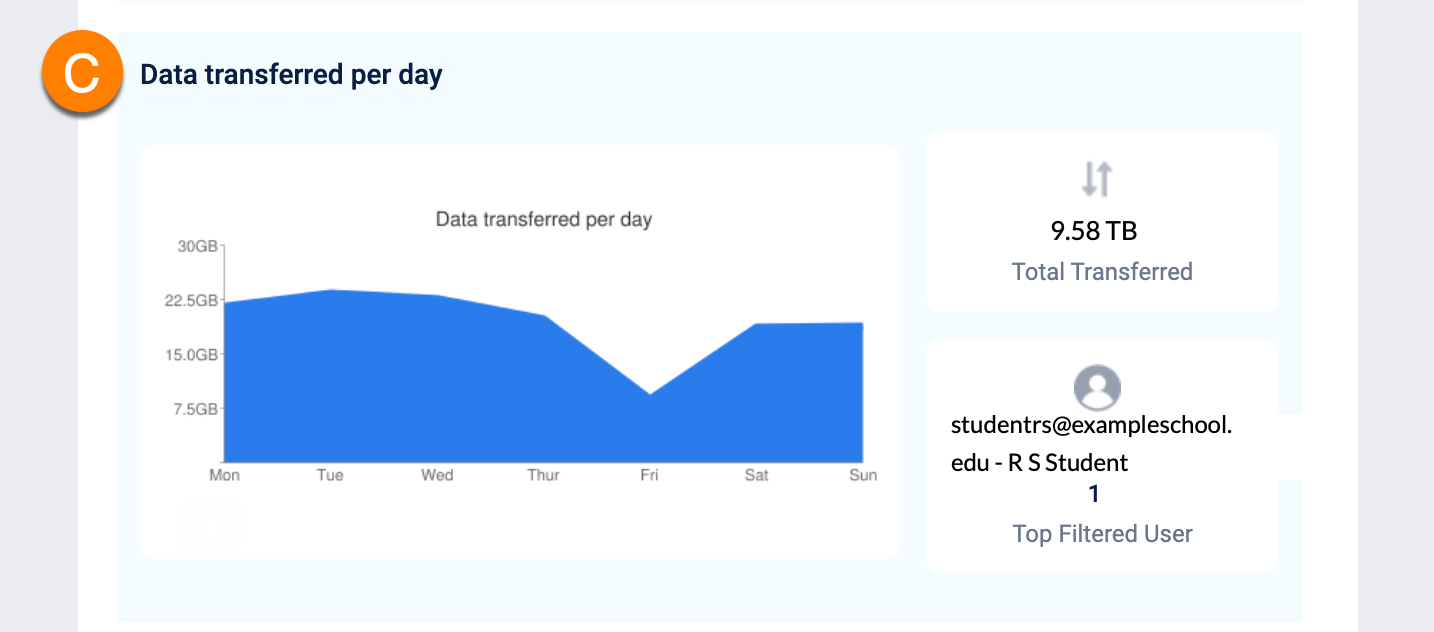 With the Statistics > Active users tool, School Manager Owner / Global Administrators can investigate user data usage details. These details can be used to find users misusing the school network for uploading or downloading large files or for high-bandwidth activities like video streaming or gaming.
D. Educational applications and websites visited
In this section, you will see the top ten educational websites sorted in descending order by web address, with sites with the most data transferred at the top.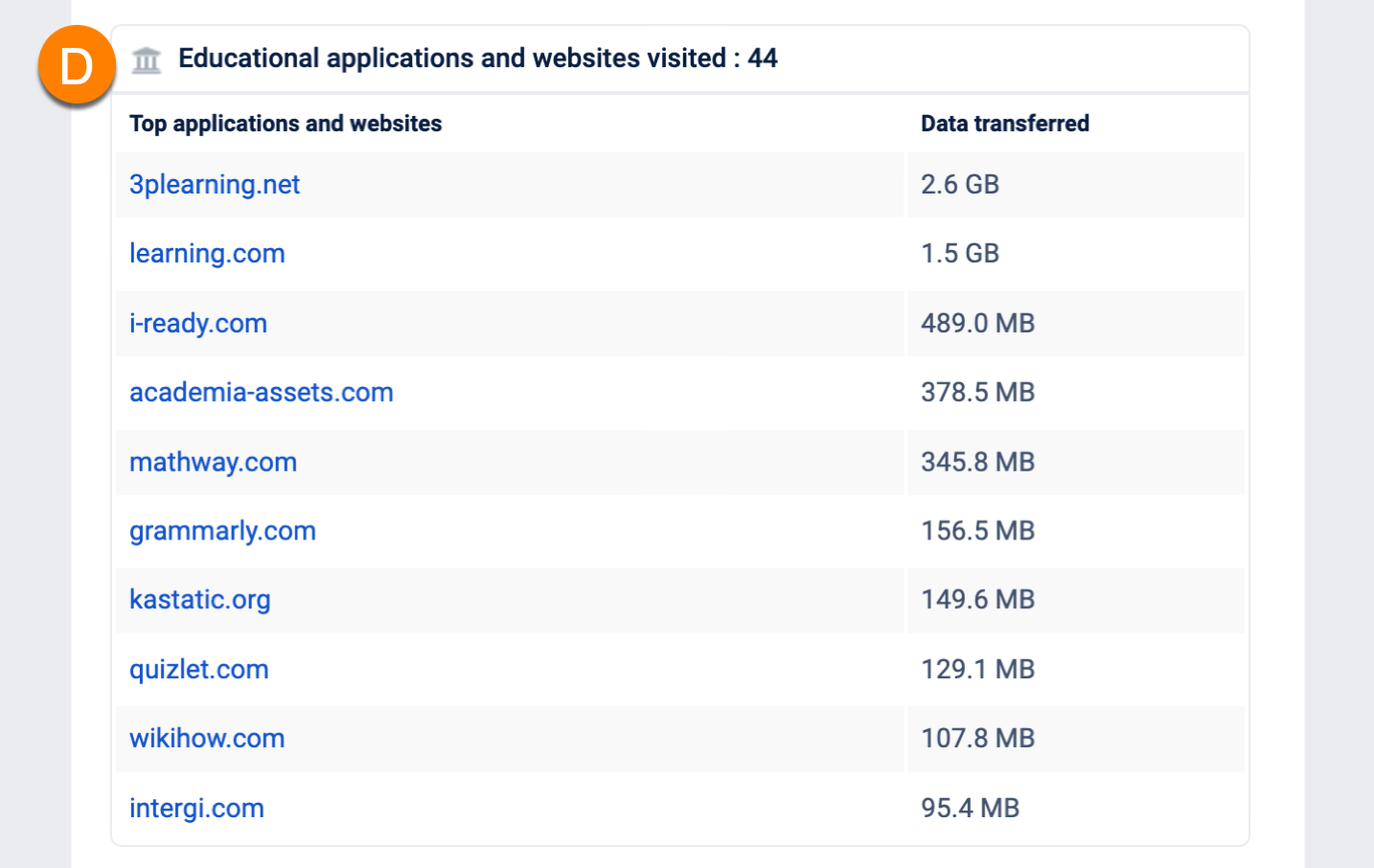 You can compare the Educational applications and websites visited to Applications and websites visited to see the ratio of learning content accessed by your users this week.
You can search for the Category "Education" using the Statistics > Apps and Websites tool. The subcategories and complete list will help you evaluate the relative use of educational online tools.
E. Applications and websites visited
This section will show the top 10 applications and websites with the most significant data transfer. You can select the web addresses listed in blue to go directly to the website.
If you have access to School Manager and are curious about the summary data you are looking at, you can review the search terms or video topics your users access in more detail by going to:
Use the Cyber Safety > Videos report to review the topics and frequency of video content all of your users or individual users are watching.
Use the Cyber Safety > Searches to review search terms that are popular among all your users or individual users.
F. Requests filtered
You will see a list of the ten users with the most blocked connection attempts for the week. The username and total number of blocked attempts will be listed. Use this to identify users needing help focusing or attempting to get around the filtering rules.
If your Weekly Report is set up for only one user, this graph will only show that user.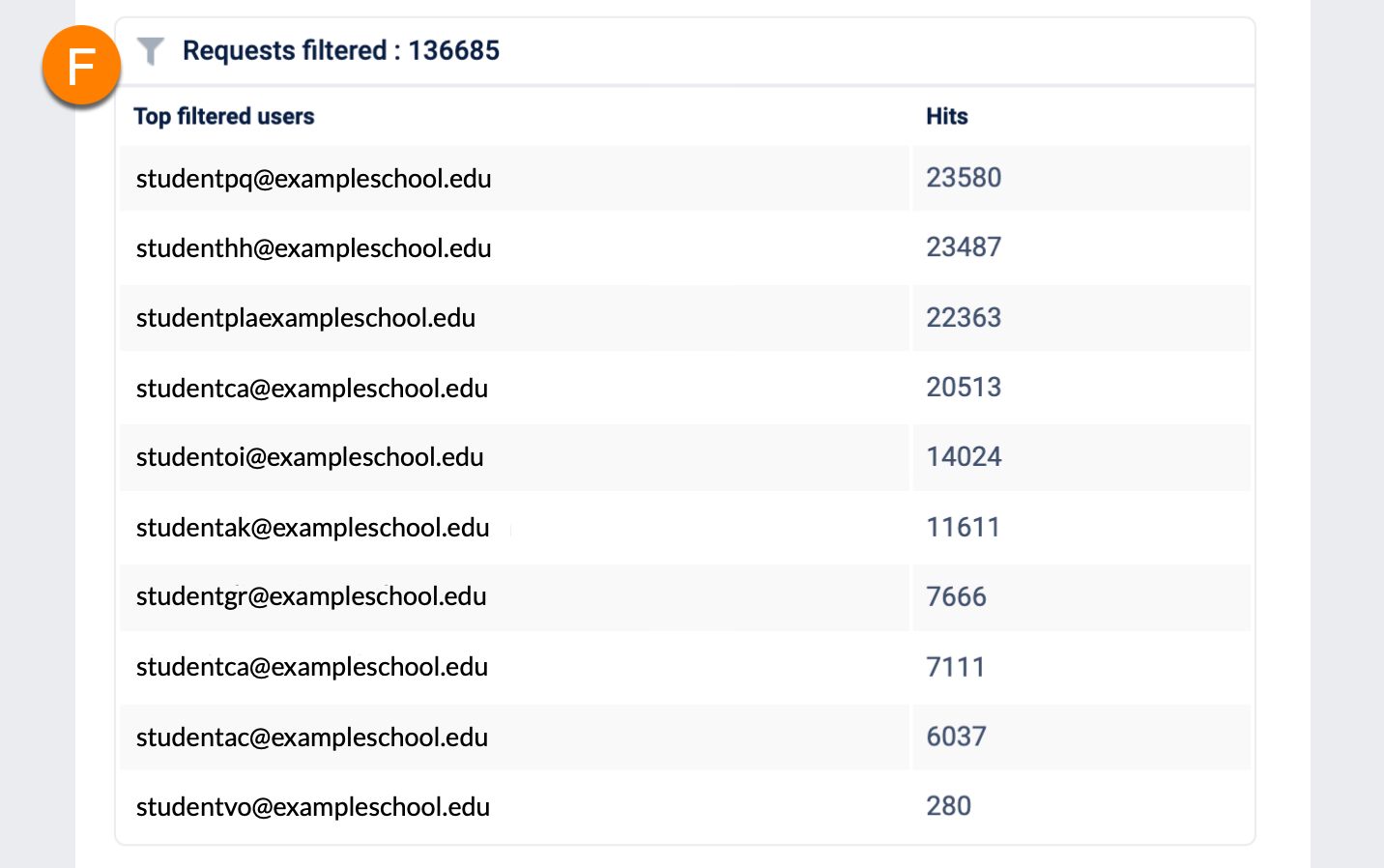 If you can access School Manager, you can investigate any user activity in more detail by going to:
Go to Cyber Safety > Blocked > select the username. The Blocked Report will link you to details about the Websites and Apps and Policies they have triggered.
Open Statistics > Users > select the username and click User Journey this can help you assess the overall pattern of work by the time of day, activity, and type of content.
G. Top Filtered Websites
The final section of the weekly report summarizes the ten most often blocked websites.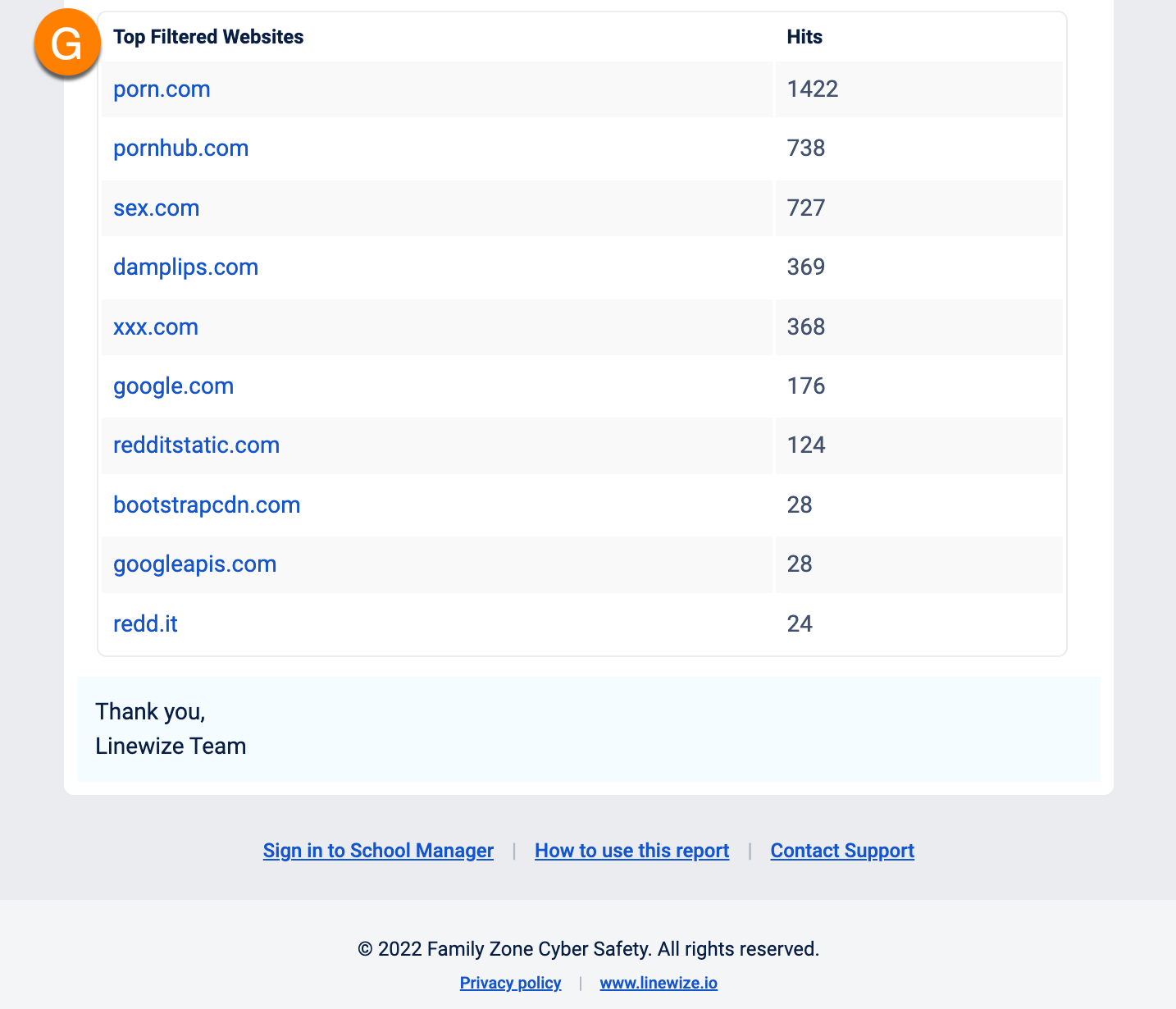 If you have access to School Manager, you can get more information about these websites by going to:
Go to Statistics > Dashboard to use the Trending comparison of all newly popular websites to the websites in the top filtered section. You may discover you can talk to your users about an emerging fad before it causes issues in your school.
Go to Statistics > Apps and Websites to see the Category of the web address and the total data. If you select a website in this report, you will see a list of which users visited the website.
School Manager users with Filtering Administrator or Owner / Global Administrator roles can go to Filtering > Content Filtering to look up the category or signature of the website if you do not recognize web address.