This article is for all School Manager users.
Users can access and configure School Manager based on their roles and permissions. Your menus and screens will vary depending on the role and permissions you need for your work. Refer to Roles in School Manager for more information about permission types.
About the School Manager Interface
The School Manager interface has five major sections:
Top Navigation
Sidebar Navigation
Page Content
Feedback and Feature Lab
Support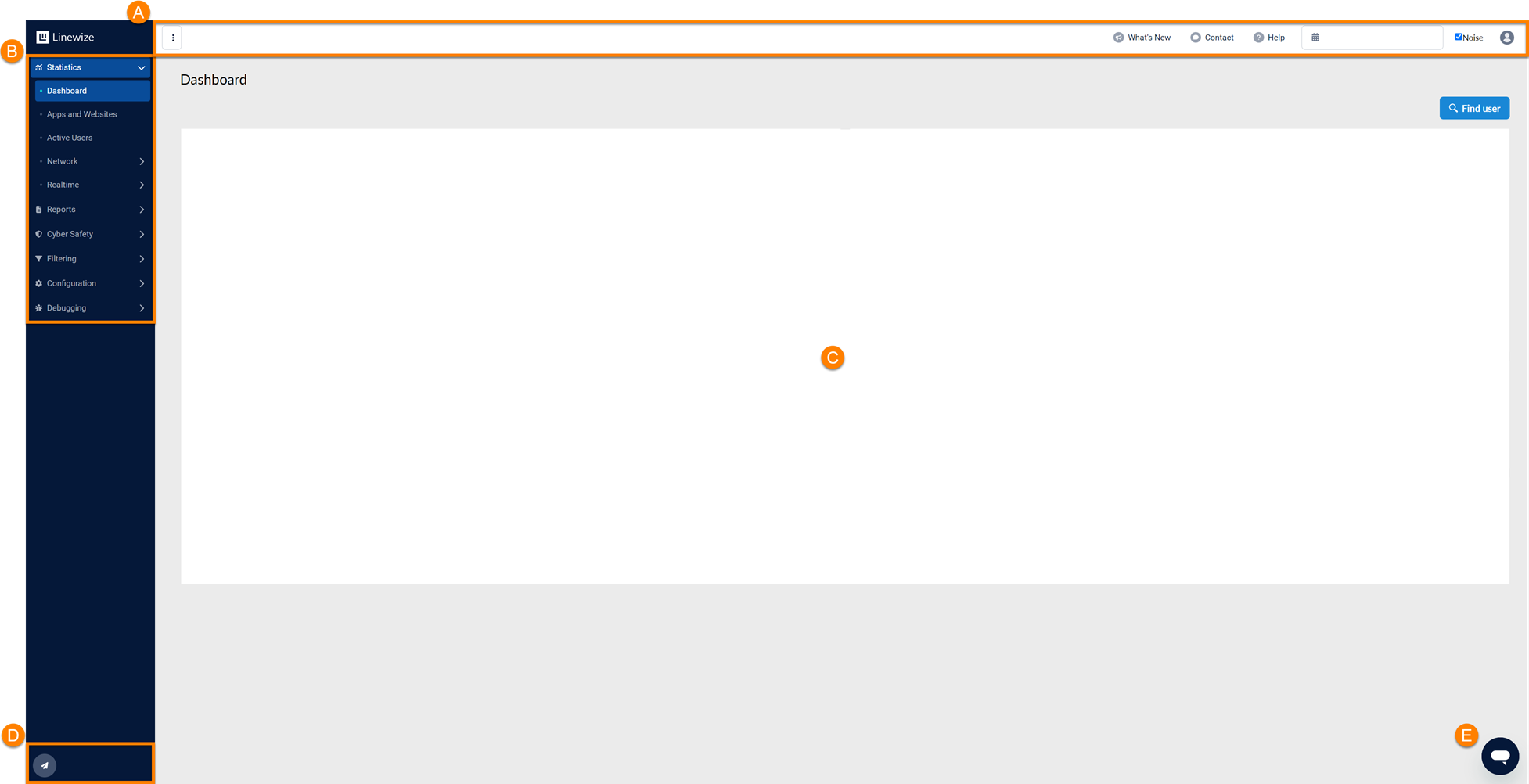 A. Top Navigation Bar
The top navigation bar contains information about your and your School Manager device. You can get shortcuts to help and set the date ranges for reports you are viewing.

1. Device name

Shows the name of the School Manager device you are using. If your school has multiple School Manager devices, select the current Device to switch to other devices.

IT Administrators can also select additional device settings, diagnostics, and device restart.

2. Information and help

What's new lists the Release Notes and notifications for School Manager and related applications including Classwize and Linewize Connect.

Support contains the contact numbers and email address of the Linewize Support Team.

Help displays the Help Center, which provides a list of links to articles about the screen you are viewing.

3. Date Picker
Sets the time period covered in the report on the current page.
4. Noise
Shows or hides traffic that is not visible to user like ad trackers, Content Delivery Network data, and software updates. See How "Noise" Works for more information.
5. Account
Displays the account that is currently logged in to School Manager. Select the dropdown to access My Account settings, change a password or to Sign Out.
B. Sidebar Menu
The sidebar menu (left side of the screen) allows access to functions based on your School Manager user role. The Owner/Global Administrator sees all menus and functions. The table below summarizes which menu items can be accessed based on your role.
Sidebar Menu Item
Roles
Functions
Statistics
Filtering/Reporting

Reporting/Pastoral Care

Classroom Admin

Classroom Ed-Tech

Cloud Filter Admin
Provides statistical data about apps and websites accessed by users, data transfer by users and groups and network traffic. Only users with Global Administrator roles can access realtime data (where available).
Reports
Filtering/Reporting
Provides advanced search tools to review on student online wellbeing, behavior and activity.
Cyber Safety
Filtering/Reporting

Reporting/Pastoral Care

Classroom Admin

Classroom Ed-Tech

Cloud Filter Admin
Displays reports on users' activities within the network. Focuses on red flags, searches, apps, videos and attempts to access blocked content.
Filtering
Filtering/Reporting

Filtering Admin

Cloud Filter Admin
Allows approved users to set rules on content filtering, searches, and access to blocked sites and content.

See Filtering Using Categories and Signatures for more information about content filtering.
Edge Networking
WAN/Firewall Administrator
Manages core networking configuration (Firewall, WAN, VPNs, and rate limiting). You should only access Edge Networking after being directed to do so by Linewize Support.
Configuration
Configuration Administrator
Allows approved users to configure Classwize (if available), as well as users, groups, authentication, security objects, network security, mobile agent, and page blocking. See Configuration.
Debugging
Cloud Filter Administrator
Features additional device configuration and update options, user permissions, data snapshots, change audits, and School Manager appliance diagnostics.

Tools like the Config Audit will help IT administrators see who made changes to your filtering rules, including Linewize Support.

See School Manager Debugging Interface Guide.
C. Page Content
The page content updates as you navigate through the menus and links within pages. The opening page content you see after signing in is based on your role.
Roles
Opening Page Content
Summary
Owner/Global Administrator role only
Owner/Global Administrator Dashboard


Displays a summary of your users' activity and the health of your School Manager system. You can use the links to investigate details and see more data.
Reporting/Pastoral Care

Filtering Administrator

Filtering/Reporting

Classroom Administrator

Classroom Ed-Tech or Cloud Only roles
Dashboard
Displays a summary of your users' activity and can access more details from each of the charts.
Configuration Administrator
Configuration Dashboard
Displays an overview of your users' data, groups, and systems. You can click on the menu links or summary items to get to the details.
Guest Configuration
Guests
Gives immediate access to a list of the Guests with details about their token, name, expiration and the current state of their guest access.
WAN and Firewall Administrator
WAN Uplink and VPN Status Dashboard
Displays the status of your Edge Network systems including your Wide Area Network and VPN connections.
D. Feedback and Feature Lab
At the bottom of your window are options to get in touch with Linewize.
Share Feedback

Have an idea for an improvement or want to comment on a feature? Send us feedback.

Explain what you want, like or dislike about the School Manager. Your recommendations go right to our Product and Design team.

Feature Lab

Access new and experimental features of School Manager before they are officially released. To enable the experimental feature, simply turn on the toggle next to the feature name. You can always deactivate a feature at any time.
E. Contact Support
Contact Support / Chat Icon

Need help with School Manager? Click Contact Support or Chat icon

We will have one of our Linewize support staff familiar with your system reply with an answer to your question.