This article is for IT support.
The User Dashboard is a clear and concise snapshot of data that provides an overview of key usage, events, red flags and traffic. There are two ways to access this dashboard:
Go to School Manager > Statistics > Find User and then search for a user or
Select a user listed in any School Manager UI.
Navigating the User Dashboard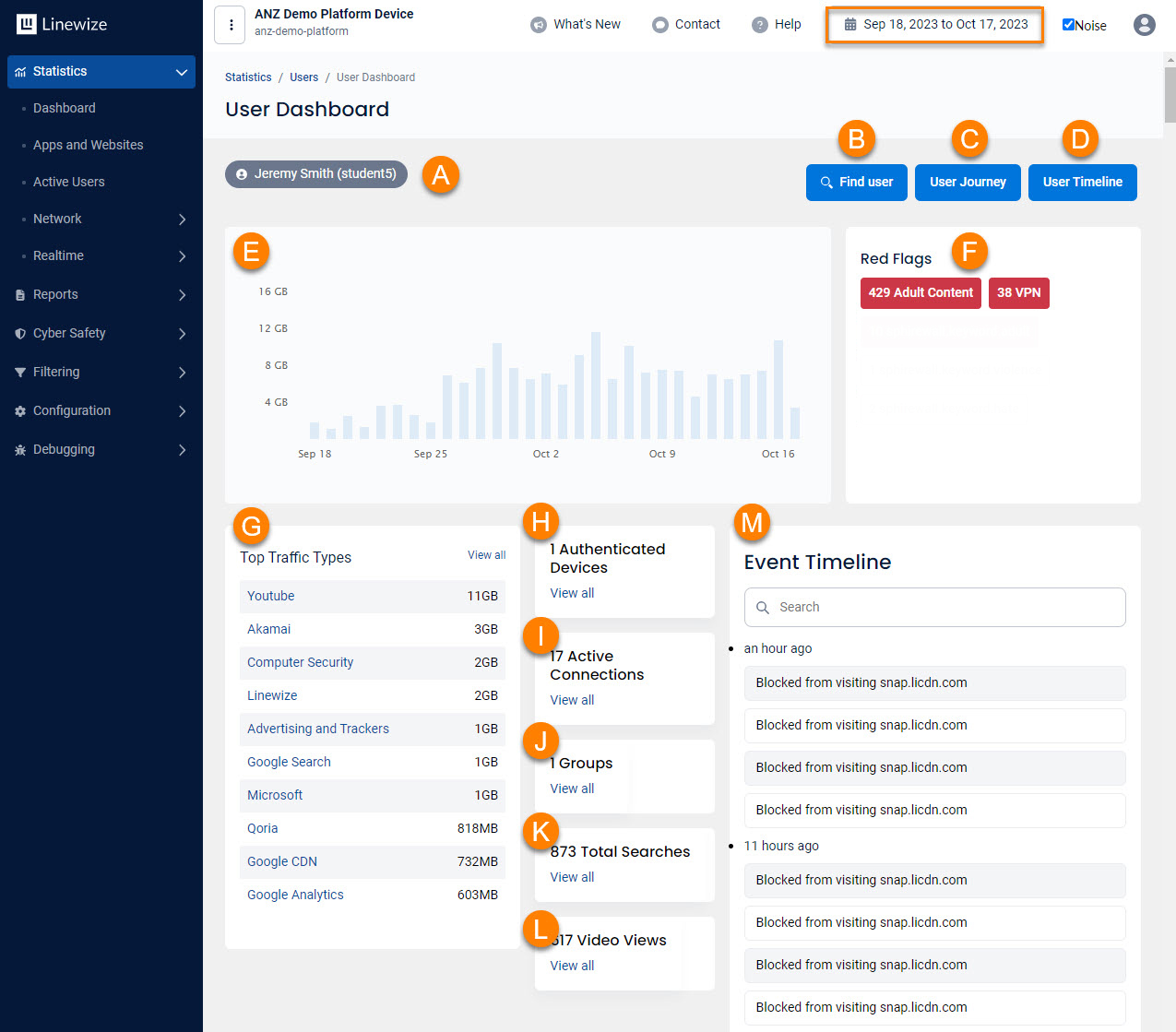 Info
You can change the time period at the top right of the page. This will change the information displayed in the User Dashboard.
The Dashboard displays the following information based on the selected time period:
| Section | Description |
| --- | --- |
| A. Full Name and Username | The user's full name and student username as they appear in your systems. |
| B. Find user | Use the search bar to find other users and open their User Dashboard. |
| C. User Journey | Access the User Journey Report for the current user. This will direct you to the Statistics > Users > User Journey page. |
| D. User Timeline | Access the User Timeline Report for the current user. This will direct you to the Statistics > Users > User Timeline page. |
| E. Data Usage | A graph of the user's data usage throughout the selected time period. |
| F. Red Flags | View any Red Flags that the user has triggered. Select the Red Flag icon to view them in more detail. This will direct you to the Statistics > Users > Application Usage page. |
| G. Top Traffic Types | View the user's Top 10 Traffic Types. Select the Traffic name or select View all to view more information. This will direct you to the Statistics > Apps and Websites page. |
| H. Authenticated Devices | Number of Authenticated Devices. Select View all to see all the authenticated devices linked to the user. This will direct you to the Statistics > Realtime > Users and Hosts page. |
| I. Active Connections | Number of Active Connections. Select View all to see all the active connections. This will direct you to the Statistics > Realtime > Connections page. |
| J. Groups | Number of Groups the user belongs to. Select View all to see all the groups the user belongs to. This will direct you to the Configuration > Users and Groups > Users > Manage User page. |
| K. Total Searches | Number of searches. Select View all to see the searches the user has carried out. This will direct you to the Cyber Safety > Searches page. |
| L. Video Views | Number of Video Views. Select View all to see all the video views. This will direct you to the Cyber Safety > Videos page. |
| M. Event Timeline | A chronological list of access attempts to blocked websites during the chosen period of time. Use the search bar to find specific blocked websites. |